How to Cean Registry to Speed up Your PC:
Having invalid registry entries in your PC and want to repair them? VAIS PC SpeedUp is a highly performanced utility to help spot and repair all registry errors. It can identify missing, corrupt or invalid items in your windows registry and repair errors like stability problems, freezes, system crashes, errors popping up, application response slowdown, etc., enhancing the PC performance. With this registry cleaner software, you are allowed to schedule the scan process to keep your registry clean and healthy regularly. Never let the registry errors stop you from what you are working on!
1. Customize Scan
First, you need to launch VAIS PC SpeedUp and after that, click "Customize Scan" on the left of the program window to specify the scanning process. In the popped up window, you can see a list of registry sections such as COM & ActiveX entries, Windows Autorun entries, Application Pathes, etc. and all others are checked by default. You can uncheck some of them according to your needs.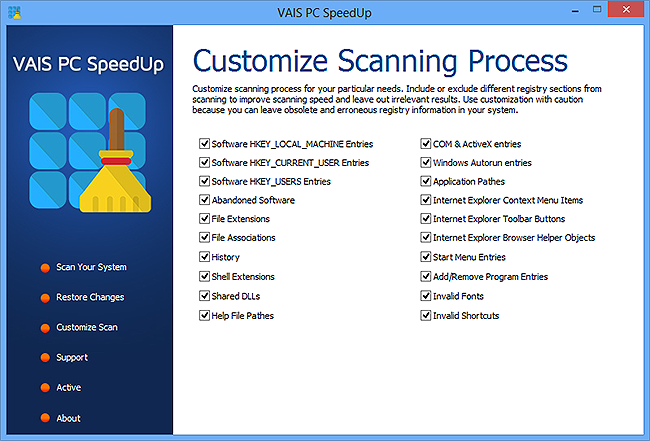 2. Scan Registry
Click "Scan Your System" to start scanning. You can stop the registry scanning by clicking "Stop scanning". A few seconds later, you will see a comprehensive analysis of the scanning results, indicating what and where the registry problems are.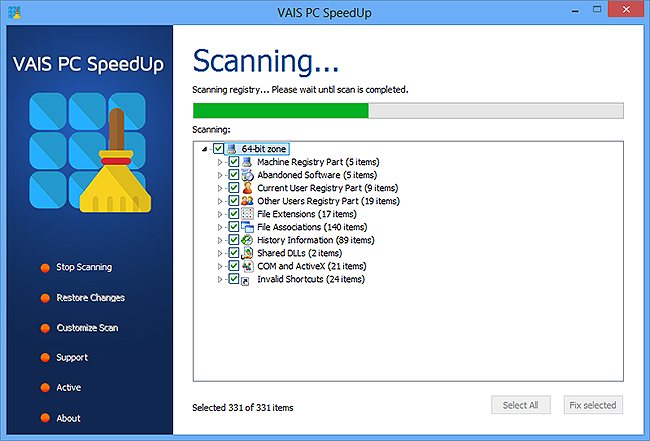 3. Fix Registry
All the registries are checked by default. You can uncheck those issues you don't want to remove. Click "Fix selected" to start fixing. With a right click, you can fix the current/selected/all registries or export the results to a text file.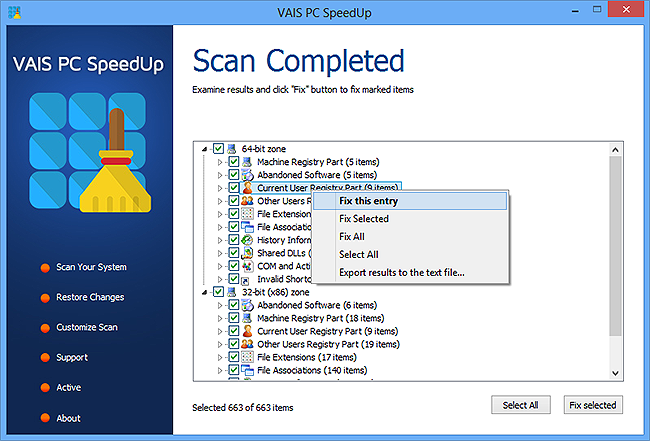 4. Restore Changes
To restore the registry from the backup file, click "Restore Changes" tab and in the popped up window, choose the file you want to restore and then click "Restore".